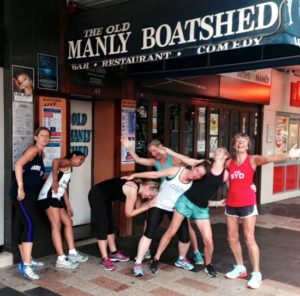 One of my favourite MBRC photos above and such a hard run, all the way to Manly Boatshed and back! We had actually ran around to North Harbour Reserve and were  trying to pretend we'd just staggered out, legless and drunk! What a great time we have with our running friends and led by our legendary coach Joey!
I've been running with MBRC for almost 2 years now. I've been coming down from Avalon to swim with The Bold and Beautiful for longer, almost 5 years. I used to see Joey and his group finishing their run as I was taking photos of the sunrise before the swim. Joey seemed such a happy, positive character who always had a friendly word for everyone and the group seemed so joyful and inspiring I gave it a go and was soon addicted!
Pre MBRC days I wondered how on earth people in their right minds could be up and ready to run at 5.30am but soon found I was setting my alarm for 4.40am and looking forward to running around Cabbage Tree Bay with such a great group of people! With Joey's encouragement and coaching I managed to run the Canberra Marathon last year and feel pretty chuffed I've crossed that off the bucket list!
A knee injury set me back a bit at the start of the year, (not caused by running but dancing and prancing on a stage I hasten to add) but now I'm back running approx 3 times a week training for… The Pub to Pub! (My kind of race 😉 I look forward to getting to know those of you who I haven't met yet and sharing the joys and woes of Monday runs through the blog!
Back to today's run! We had a great turn out on a very chilly morning. Around 19 runners showed up and it was around 10 degrees.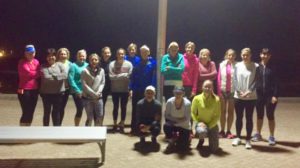 We ran past the ferry terminal to Manly Sealife Sanctuary. Here is an action shot!
Then back to the Surf Club and along to Queenscliff. We even ventured up Lagoon park a little way before turning around so probably 6 kms all up. Joey also took us through some well needed, (for me anyway) core work exercises on the grass before heading back.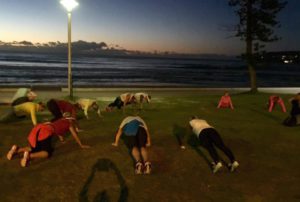 I wanted a 'Joy Jump' photo on the beach and it worked out really well as you can see below. What a fantastic start to the week! Well done everybody. Make each day count or rather every moment! Nothing like starting the day with a run with the MBRC crew along Manly Beach and a sunrise at the end!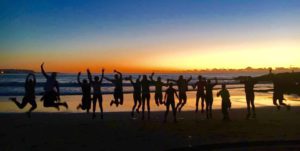 lots of love Lainey
1,255 total views, 3 views today