Warm and Fuzzies
Sometimes the best part of a Manly Beach Running Club session is the rush of endorphins coursing through the body from raising the heart rate first thing in the morning. Sometimes it's the smug satisfaction of putting in a solid sweat session while everyone else sleeps. Sometimes it's watching a sky so intensely illustrated with the most glorious light and colour that it stops you in your tracks and captures your breath in its beauty. This morning it was the warm, fuzzy feeling of being part of a group, of being surrounded by people who care and support and listen.
When Life Sucks
This week has been a hard one to get through. And I'm not just talking about bad weather, stress at work and sleep deprivation. I'm talking about when life kicks you in the guts and while you're writhing on the floor in pain it gets into your head and makes you feel as though you deserved it. I turned up for today's session feeling as though I couldn't breath because of a tight band across my chest and that an invisible weight was sitting on my back and shoulders, pushing them forward and crushing them. Seven kilometres of Fairlight hills later and I was feeling significantly better than when I showed up. One of the things I love about running is that you can spend as much or as little time in your own head as you like, you can get to know yourself better than you ever thought possible or you can use the constant pounding of footsteps as anaesthesia and become numb to everything outside the immediate physical requirements of the task at hand (or foot as the case may be). Run up the hill, turn left, run down the hill, turn around and run up the hill again. Keep going until you're told to stop. There's something therapeutic about getting it done regardless of what's being thrown at you in the real world.
Thank Goodness for BRF's (Best Running Friends)
After most sessions you can count on a few runners heading to Manly Wine for that glorious post-run caffeine hit, and today I knew I needed to join them. And that's when I got my warm fuzzies, and not just from the skim latte I threw down. For not only could I share some of what I'd gone through this week, I also shared raucous laughter, inappropriate conversations and listened to some of the struggles that others were facing, which pulled me out of my own pity-party. That feeling of being accepted and embraced by people I admire, respect and genuinely like (it's hard not to like a runner, they're just such quality people!) can be better than that elusive runners high, and today it was precisely what the doctor ordered.
Thank you MBRC, you're good people!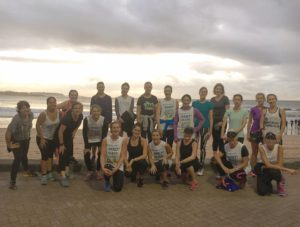 1,238 total views, 2 views today