I always grew up sporty, I played handball, soccer or bullrush with the boys and the other two "tomboys" at lunch. Dad bought me a rugby ball and kicking tee one Christmas when my sister got nail polish and stationary.
The beep test was my heaven and the athletics carnival was my sanctuary. School was coming to an end and I had to have my first of 5 back operations over the next 4 years. My sports filled weeks turned to travel, work and brunches.
Fast forward to my mid twenties and my motivation returned!!! Sporadically anyway…I would decide that NEXT MONDAY was the start…I would run everyday! I'd buy a new outfit so I would look the part and Monday would roll around, inspired I'd tie my laces and head out the door. I'd fly down the road and be tired after the first 600m, walk the rest of the way but run the last 200m home so my housemates could see I'd gone for a run.
Helllllo Tuesday! Can't wait to run when I get home….actually what do people say about rest day? I should probably have a rest day today.
Wednesday – Rain? Oh, I could slip and injure myself so I'd better stay inside.
Thursday – Did I cough at 11.03am this morning? I think I coughed, I might be getting sick. I'd better not run in case I get worse.
Friday – Well, there is no point going today, it's the end of the week. I'll start again next Monday.
The excuse cycle continued, I wouldn't start the next Monday but I'd start again in a couple of months, I'd buy a new outfit and "get out there", only for the same thing to happen.
After a couple of years of failed attempts, I had a draw packed full of new running clothes but an even bigger drawer of excuses.
I searched for "running club northern beaches" and up popped Manly Beach Running Club. I messaged "Joe Ward" and was met with a friendly reply encouraging me to come down the following Monday. Which was great, because I loved starting "NEXT MONDAY".
Off I headed, physically sick with anxiety about running with a whole group I didn't know. They'll be faster than me, they'll all know each other and ignore me, they'll laugh at me. I stood there at the surf club hiding behind the tree and sent a text to my boyfriend "not going to run with them today, too scared. I'll just run by myself for a bit".
Someone wearing a MRCB singlet was walking around near me looking at the ground. "Hi" she grinned up at me, she explained she was looking for something. A nervous laugh was my reply. "Are you meeting anyone here or are you running by yourself" asked this friendly, open face.
"I'm meant to be running with you guys (pointing to her singlet) but I don't think I'm going to, I'm too scared" . I was holding back tears at this point.
Almost with a laugh this kind soul insisted that I run with her and to come over so she could introduce me to the others, she introduced herself as Lainey. Reflecting on it now I realise that her almost laugh at my nervousness was because there was nothing to be scared of, all my concerns could not have been further from the truth about the women in this club. I ran that first morning with Lainey and I have never looked back.
To begin with running was a form of getting fit, running off the few kgs I'd put on since school. It soon turned to the want of the feeling I got after a tough run, a 5km PB or a full week of running. One day someone at work asked me if I enjoyed it while I was running or if I just felt good once I'd finished. I thought about it for a while and I couldn't answer. I assumed it was the relief of finishing and the smugness I felt after, not the actual run itself that I enjoyed.
That weekend was my first ever Sunday long run (I had avoided it for about 5 months since starting). That morning we ran up North Head through rain, thunder and lightening that didn't look too far away. I ran solo for most of that run, the rain hitting my face, my feet crunching the dirt on the road and the distant call of "good work KB" from some English bloke that's on all our runs 😉 (you're a legend Joey).
I closed my eyes for a second, took a deep breath and realised that yep, I love the run!!!
---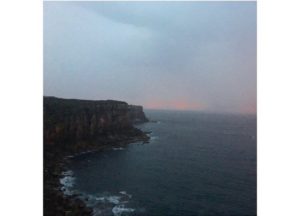 1,092 total views, 2 views today