My Story
I often chat with my friends about "finding the mental strength" to keep going, to keep running and to believe you can continue on and achieve your goals, to get across that finish line.
Everyone has goals and they vary greatly I'm sure, but what I've realised over the years is that there are a number of constants that have helped me to achieve mine. One of the most important to me is to have that belief in your self.  
Self-belief is something that doesn't come naturally to me, it's a tough battle that I still find myself struggling with at times. However, how we get that self-belief can be dependent and easier to attain when you have the right people in your life.
At Manly Beach Running Club (MBRC), the friendships are strong, supportive and giving and it's with this group of inspirational people that my own self-belief continues to grow and my doubts fade.  
I am sharing my personal story in the hope to help others in their time of self-doubt, when you wonder if you can keep going, if you can make it through, to get over that finish line, whatever that line might be.
My personal battle started 20 years ago when my life changed in an instant. It was the moment I suffered a sudden cardiac event that led me to being diagnosed with Hypertrophic Cardiomyopathy (HCM), a genetic fault I was born with and only diagnosed after this event. I have the rare opportunity to still be here thanks to some quick thinking work colleagues.
At the age of 30, I was informed by a doctor that I should never have children if I wanted to survive, that my life span would be greatly reduced and I would need an Implantable Cardiac Defibrillator (ICD) inserted into my chest to survive, should I suffer another sudden cardiac episode. This news left me in shock and numb for some time.
Thankfully, through medical advancements and the support of loved ones, I have achieved some of my greatest accomplishments. My greatest is my 9 year old son Julian, who also has a 50:50 chance of having the same defective gene.
This year I have signed up to run my first ever marathon in Queenstown New Zealand, and Julian will be running in the 3K race. By doing this race we hope to raise awareness and help raise funds for a medical research group very close to our heart.
It's the support and encouragement that I get from everyone at MBRC and Coach Joe that will give me the self-belief and the strength to cross this finish line. And to all those people that have supported me and helped me to keep going, believe in myself and cross many different finish lines, I am forever grateful. My only hope is that I too can offer the same to those who are in need of support, in need to cross their own finish line, whatever that might be.
Our Fund Raising Campaign
Up to four young Australians, under the age of 35, die each week from Sudden Cardiac Death (SDC).  
The research that Professor Chris Semsarian and his Molecular Cardiology team at Centenary Institute provide is vital for saving lives, sudden death prevention, and to improve the diagnosis and management of patients and families of SCD.
If you would like to find out more about the team at Centenary institute and their research in molecular cardiology you can find out more by clicking the link below.
http://www.centenary.org.au/cen_program/molecular-cardiology/
Should you like to make a donation in the support of this incredible research team please follow the link below to our donation page on the centenary institute website.
http://www.centenary.org.au/dominique-julians-marathon/
Please feel free to share.
Thank you 
Dominique and Julian x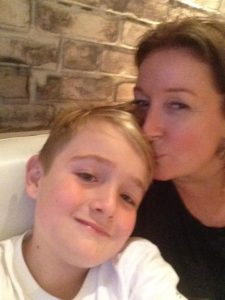 1,496 total views, 2 views today