The day has finally arrived and there's a mixture of feelings! nerves, fear, joy and enthusiasm. The date I've been waiting for months is finally here!
I think before running your first marathon you always try to imagine how things will be: how you'll feel that day, the starting line, the  42K, the finish line and of course, celebrating at the end. You put yourself in all the possible escenarios with different outputs, however in the end, your first marathon should always be a good surprise, and that's exactly how it was for me.
Once we reached Milson's point and started preparing for the race, I realized how little I knew about what it meant to run a marathon. For starters I tied my laces as hard as I could, so Joe taught me they have to be loose, he also taught me how to drink water from the glass on the hydration points. Small things that would prove to be very helpful later on.
At 7:05 we started running. The first part through the Harbor Bridge was one of my favorites -I think that because of the excitement I didn't actually realize how long we had left- afterwards we went continued to Hyde Park and towards Centennial Park. At around 21K I started feeling bad, I wasn't expecting that because my longest run before the marathon was 32K and I felt well, so by the time I realized it was only half of the race I started feeling worst, dizzy with an upset stomach. I even thought about quitting and going back home, but I knew that if I do that I would never forgive myself, so I just kept running. For several kilometers I suffered, and the fact that I had at least 2 hours left didn't helped, but I started feeling better at 32K. I was tired and my legs hurt but I was feeling optimistic now, I just wanted to keep on going and I started smiling again.( I think the video was very well edited because I didn't smile for a long period of time).
I can say th
at the last kilometers were the most special ones. Those moments when your legs start gaining strength out of nowhere, when you see an old man running barefoot in the rain, a woman with your country's flag on her shirt, a couple running hand by hand tied by a rope, and of course, you see everyone cheering their friends and family once you start getting close to the finish line. All of that makes you feel like the effort was worth it and you start feeling a tremendous amount of pride as you reach the finish line.
It's been over a week since the Sydney Marathon and I'm still thinking about what that all that day and training meant. It's strange actually, to prepare yourself and train for months for something that will be over in just a few hours. Now there's a feeling of emptiness, I completed this goal so what's next? another marathon? the last thing I wanted to hear once I finish was the word "run", I was so tired that I though to myself "first and last marathon of my life ", however, your mind is so strong that it can make you forget all the physical suffering. Right now I'm feeling so happy and proud that I can already start thinking about running my next one some day, although I know it would never be like my first one on September 18th 2016, next to my coach Joe, as a part of Manly Beach Running Club.
I wrote this blog to thank all of you, for the support I got from MBRC's runners and from Joe, for everything you did before, during and after my first marathon. I will always be grateful. Thanks again and I'll leave the after race celebration blog to your own imagination.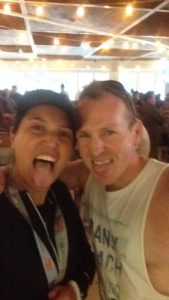 1,041 total views, 2 views today