News from the Club
Arroooh! This week was Super Moon Week. Anyone notice any strange behaviour? Hair growth? Well I'm sure the wolf pack was out running this week!
On Saturday, members were out to enjoy the wild sounds of Deggsy's Midnight Runners at the Boatshed. Thanks, Paula, it looked like Derek was having a blast!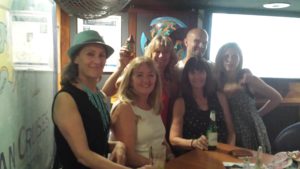 So was there a decision on the new name?
Some beautiful mornings were enjoyed this week (from the look of the pictures on FB of those sunrises) and it was great to welcome back Coach Ananda to Tempo Tuesdays.
This week's member story
Running with the pack
I joined Manly Beach Running Club in February of this year. Before that I had mostly run by myself. I was good at running on my own. Motivation has never been my problem; I love to run (just to make me sound really strange, I used to think that I was a horse). Running is my freedom and running has been my escape (and it's really good for the odd epiphany on work, life, .. and shit).
I started doing short runs for exercise and peace of mind around the roads and bush tracks in my local area. Then I just kept going out for longer and thought I might start entering fun runs. So I decided to enter the City to Surf. There are lots of training guides online so I just followed one. I became quite disciplined, and it all grew from there. 14k turned into half marathons. I always felt wonderful when I set myself a challenge and met it. So then I thought, well I should do one full marathon in my life. So set myself the target of the Sydney marathon, raised money for the Oasis charity and followed an online training plan faithfully (e.g.Fartlek sessions on the local oval. I even grabbed a stopwatch from work and went to the Athletics Centre at Olympic Park for some 400 and 800m speed repeats). Anyway, you guys know how it ends, one marathon suddenly becomes two, then ….
I moved to Dee Why last year. Then, during my many runs along the coast of the northern beaches, I kept on spotting these people in the same shirts running in the opposite direction. They looked fit, happy and friendly runners, and I thought, 'I must find them' (sorry, still sounding strange).
Cut to a year later, and I love running with the MBRC pack. I've met so many wonderful people with the same interest (veering on obsession) as me (coffee and running), that talk my language, are completely supportive and, yes, friendly. Not forgetting the most positive, inspiring running coach in Mr Joe Ward. Thanks, Joe. Joining a running group has made me set goals, mix up my training and run against such talented runners.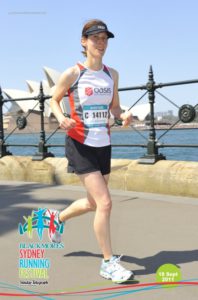 Now I've entered my first ultra-event, something I possibly never would have done without the influence of others around me. (I thought for a long time that a 'half' was my maximum distance). Some advice: Don't get stuck on thinking that you can only do so much or go so far. Keep pushing the boundaries. Get bored and ask 'what's next?'
This morning, I couldn't run with the pack (early work start – hair wash, etc.). That's alright, I still enjoy running by myself, and I sometimes miss running around Dee Why and up to the Long Reef Headland (the other day I even checked local Dee Why Strava segments. Noooo!).
But given the choice, I choose MBRC. Running is so much more enjoyable with the company, conversation and of course, don't forget the coffee.
And Finally
Don't forget to send in anything that you would like the group to know, your own personal stories (or others), training tips and suggestions.
Go Dominique for the Queenstown Marathon tomorrow! I'm sure we all can't wait to hear how it goes and are looking forward to sharing a bottle of bubbly with her.
Thanks for reading,
Michelle
937 total views, 1 views today