Manly Beach Running Club's top tips for Marathon day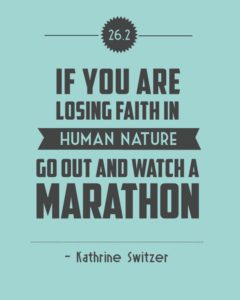 There are plenty of different tips and tricks available out there in the interwebs for running your first marathon, second marathon or even your 100th marathon! You may find that some of these tricks and tips work for you and some don't. This fact highlights one of the most well known rules of running a marathon :- everybody has to run their own race! In other words, every runner has not only their own marathon pace but also their own strengths, weaknesses and challenges. Running a marathon is a unique journey for every marathon runner so think about the different factors you need to focus on to get the best possible performance from yourself on race day.
For example, some runners may struggle with pacing, some will have trouble eating during their run and others will be over confident or maybe under confident. Other runners struggle with work/life balance or getting enough sleep, maybe hydration or cramping issues and some runners will overtrain. Whatever your situation, hopefully one or two of the following tips will assist you on race day and make this amazing running event just a little more enjoyable for you. They might even help you achieve a Personal Best. I hope they do! 🙂
With all the race day tips below one thing is consistent; the more you plan and prepare before hand the more likely you are to enjoy your race. Planning and preparing doesn't just apply to your training. In the same way you've designed a detailed training program, you should also have a detailed nutrition strategy, pacing strategy, plan for your support crew (spectators) and good understanding of the course. This may sound like overkill but there's no such thing as being OVER prepared! Write everything down, discuss your plan with your coach, support crew (family), physio and nutritionist. The more experts you have in your team the better!
Personally, I like to list things and number them. This lowers my anxiety before race day and helps me come up with a very detailed plan of how my day will unfold. Once everything is written down I feel like everything is under control. Yes I am a control freak!! :-p
Marathon day tips :-
1) Nothing new on race day – no new shoes, no new clothes or new gels/energy bars. Whatever has worked for you in your long runs in training I would advise you stick with the same routine. It's always tempting to try the new fancy energy gels on the course or buy some shiny new shoes for the race day photos but this can cause all sorts of unexpected problems. If in doubt follow the wisdom of KISS – Keep It Simple Silly!
2) Run a kilometre for a family member or close friend – when it gets tough (usually around 30kms) run a kilometre for someone special. This can be your mum, your dad, your sibling, your partner, your child or a lifelong friend. Think about the best qualities of that individual. Are they STRONG? Are they EASY to get along with? Are they full of LOVE and PATIENCE? Focus on their characteristics. What would mum or dad say right now? This can be a very emotional process so make sure you draw strength from the person you're running for. Maybe say out loud … "This kilometre is for my sister Jenny!" … "Jenny is AWESOME!!"
3) A little caffeine goes a long way! – If you're someone that responds well to caffeine and you've used this in your training, then a little caffeine at the right moment can really help! I would suggest popping two Panadol Extra at 25kms. The middle of the marathon between 25kms and 35kms can be super tough so this is a great time to get a bit of a caffeine boost. Try not to increase your pace too much when the caffeine kicks in and maintain a nice even pace if possible. You're on your way to the finish line woo!! I do not advice Anti Inflams as this can be a health risk. Thankfully Panadol Extra is not an Anti Inflam and works like a treat 😀
4) Lions Breath – deep breath in and then breathe out loudly (like a lion). Sounds silly and looks silly but it works!! Expelling CO2 and inhaling plenty of oxygen is a simple but effective method to help you relax and refocus. A couple of Lions Breaths when you hit 30kms will tell your brain and muscles that there's some work to do and you're ready!
5) Shake out your arms, relax your shoulders – a lot of people hold tension across their shoulders and through their arms. Your arms and shoulders can become just as tired as your legs during a marathon so shake them out a couple of times at half way to help relax those tired muscles. The repetitive motion of swinging your arms can get a bit much, especially if it's your first marathon. 
6) Use a powerful one word mantra – STRONG LIGHT FOCUS RELAXED COMPOSED … a one word mantra can be incredibly powerful. Think of a word before race day that empowers you and use this word to help get the most from your body and brain. My favourites are FOCUS RELAXED and COMPOSED. I try to visualise the letters in bold capitals before my eyes and this really helps me think about what each word means.
7) Break the race into sections (i.e. 25kms is half way!) – It may seem like 21.1kms or 13.1 miles is the half way mark but sadly it's not. Psychologically the marathon doesn't really start till 25kms so it's a good idea to break the race down into manageable sections that you can mentally tick off as you go. For example ..
0-10kms Warm up – relax, fuel your body for later in the run, don't run too fast, be patient
10- 21.1kms Set up – find your goldilocks marathon pace, eat, hydrate, set up the second half intelligently
25kms Psychological half way mark – time for some caffeine, focus on fuelling and pace
30kms Time to go to the office – maintain pace, keep fuelling, run a km for a loved one
35kms Only 7kms to go!! – relax, don't forget to keep fuelling, focus on nutrition strategy
40kms Only 2kms to go, keep those legs moving, stay positive, get some sugar
8) Listen to your breathing – if you're breathing hard in the first 5/10 kms, slow down. Try to run at a pace where your breathing is relaxed and calm. Trust your pacing strategy and don't get caught up chasing people overtaking you in the first 10kms or so. You will most likely see them again later in the race.
9) Lean forward from your torso and run as efficiently as possible – as your body gets tired later in the race, your running form will become less efficient. Remind yourself to lean forward from your torso, be tall, hips forward and lift your knees. Focus on keeping an efficient running form and it will make you feel more positive and comfortable during the race. Your posture is a reflection of your mental state but it's a two way street! If your brain sees your body running strong, efficiently and confidently then you can trick your brain into feeling stronger and more positive. Outsmart your brain! 🙂 
10) Use a pacer! – A good pacer on race day can be the difference between a great race and an ok race. If a pacer is available (and it usually is) then this is a massive advantage. This will take a lot of mental effort out of the equation. Find a pacer on the start line and use them. You won't regret it.
11) Smile! – When you smile you feel more positive. Smiling is a great way to get the best performance from your marathon machine. Never underestimate the power of a simple smile 😀
12) Thank the marshals – Saying thank you to one or two of the race marshals is a simple act but they will be grateful for it. Many of these amazing people are volunteers that have given up half their weekend so you can run a marathon. Without these amazing people the race would be much more challenging. Also, some of the volunteers are marathon runners too. They probably know what you're going through. Say thank you and they will tell you that you look awesome and that might just help you run a little taller and a little faster 🙂 
13) High fives and hugs – Ask your support crew to position themselves at the point on the course where you think you will need them most. You're unlikely to need a hug or a kiss at 5kms or 10kms but 30kms or 35kms might be just the right time for some love. Just be careful not to stay for too long when you say hi. A quick kiss from your partner or your baby is great and will make you feel like you can run forever!! xx
14)Practice gratitude – You are one of a very small group of lucky people that can run 42.2kms for fun! Even if you're suffering a little on race day, think about how lucky we all are to challenge ourselves and inspire our friends and family doing something we love. Running a marathon is a life changing experience that adds value to your health, your relationships and can create some beautiful friendships too. Keep your head up, be proud and don't forget to smile at the finish line. YOU ARE A MARATHONER!!! 😀
3,598 total views, 8 views today