9,497 total views, 5 views today

GNW 2017
My seventh GNW 100 miler start. I know this race. I know this race scarily well, some would say to the point of obsession!! But that's where it begins for me. The start line for MY race is my addictive personality and obsessive, compulsive nature. It's one of the reasons I run; to channel my "monster" into something constructive. To turn my enemy into my friend.
The question after the last two years of running 24:10 in 2015 and 24:25 in 2016 … how can I channel my negative traits and turn them towards a sub 24 hour GNW?

What do other people do to run a sub 24 hours in this race? I asked Tim Locke, a good friend, running coach and winner of the 2016 race and his response was
"Training was mostly just emphasis on time on course … My aim was to come into the race undercooked."
So I built my weekly volume from 100kms per week, adding an extra 5kms every 3 weeks from January all the way to the peak of my training running 155kms for 4 weeks in August. I tried to get comfortable at each new weekly volume before progressing after 3 or 4 weeks by adding another 5kms. I channelled my obsessive nature into getting these weeks spot on week after week. Sometimes within 0.1kms of my weekly target. I still did my tempo and hill work but it didn't matter how fast I ran as long as my weekly volume was on target. 

During this time I missed only one training run, the last long run on the last hard day.
I had a 100km run on the last day of training program about 2 weeks out from the race and when I set out from Teralba station at 5.30am for what I thought would be my last day on the trail till race day, I felt tired after only 8kms. I was tempted to push through and complete the training run. My ego told me I needed to have the perfect 8 month training program and this was the last box to tick but I knew I couldn't get to the GNW start line overcooked, injured or tired. This year I wanted to throw everything I had at a sub 24 and I needed every single ounce of energy. I had to silence the monster.
I finished my last day of training on 11kms instead of 100kms for that last long run. 5% undercooked is better than 1% overcooked!!
One thing I learnt during my training is that I have a good ability to FOCUS. When all else is failing on me, my legs are tired, my brain is mushy, I still have the ability to be objective and FOCUS. So this became my "power" word. FOCUS on the start line. FOCUS on getting there in the best possible shape. FOCUS on the things I can control.
My taper was perfect. Plenty of sleep, good hydration, lower kms, couple of massages and a super effective bit of dry needling from Kieran Watson at IB Physio in Manly.
I also had a few new tricks up my sleeve that I learnt from training. Lets do this!!
I met a few friends at Teralba and we laughed and chatted. This is one of my favourite places to be. Standing at Teralba, surrounded by some of the finest athletes in Australia. UTMB finishers, Hardrock 100 finishers, Badwater runners, C2K legends, Australian Internationals, brave 100km and 100 mile first timers and of course the amazing family and friends that fuel them and keep them moving. If I had to choose a tribe I would choose this one. In fact, one of the main reasons I run is because I want to be a part of this amazing group of individuals. Running 100 miles is a small price to pay to be initiated into this tribe of enthusiastic dreamers. What if you were asked to pay $350 to be a part of the cool gang, would you pay it?? That's pretty cheap right??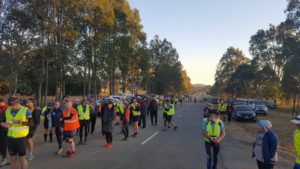 The course had been changed due to the bush fires so we drove to the new start near Mill Lane and Heaton Road. As we drove around the huge bush fire at Heatons Gap we realised how large the impact had been. The smoke filled the front windscreen. A part of me thought this event would be stopped before the day was through but either way I was here to run for as long as the race organisers would let me. There's a feeling of peace that comes with surrendering. I told myself that all I needed to do was run until someone told me to stop. Just run.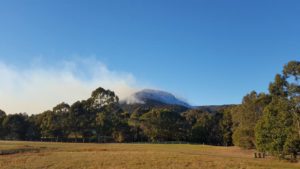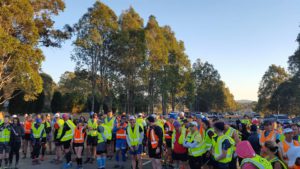 And we're off!!!
The first 20kms of road flew by. I settled into a decent pace and ran a few of the early hills. I thought I might be running a little too fast but I was so glad we didn't have to climb Heaton Gap Lookout or navigate the technical section of the Jungle. An out and back on a steep hill and then at around 19 or 20kms they directed us into the Jungle. What?? I thought we were going to skip this section?! Wrong. This section always kills my legs. Several 100km runners and a few 100 milers overtook me through the jungle but it was early days and I knew the next section was runnable. I was hoping to get to Watagan HQ for 9am but settled for around 9.35am. This first section was tougher than I thought it was going to be but still not as tough as previous years. I was happy to be through a tricky section without getting lost and have the nerves of the first stage behind me.
I met my support crew at Watagan HQ, CP1 and did a quick turn around. Gavin Markey overtook me and whizzed past. He looked so strong it was scary!! Maybe Gavin was going to win again this year?? Gavin not only supplies half the running community with Tailwind but he also lives in Berowra Waters on a beautiful and brutally hill part of the GNW. He is not just experienced but one of the best on all parts of this trail, North and South. I knew I was in good company and chased Gavin down to Congewai Road. When I hit the road I knew it was almost exactly 7kms to the checkpoint at Congewai school (CP2). 4kms to the first little hill where I had a quick walk break then another 3kms across the bridge and round the corner to be weighed and have a quick gear check. I was determined to arrive at Checkpoint 2 around 12pm and I did. 12:05 arrival and then out of the checkpoint with a Marmite and Tomato sandwich at 12:10.
This year I vacuum sealed all my gear so the gear check at CP2 was quick and painless. Thanks to Ben "Blackie" Blackshaw for the top tip!! Also thanks to Karen Barrett for the recommendation to buy the vacuum sealer from KMART!!
As I left CP2 the encouragement was amazing from the marshals, the support crews (thanks Tim!!) and my wife Emma ran to the fence as I was leaving and said, "I love you." I had lots of love and a marmite sandwich, life was good! Two checkpoints were behind me and I was bang on schedule. Could this be the year??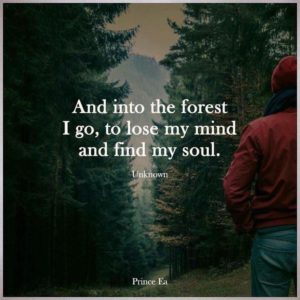 I knew I had a hard stage ahead of me. First the communications tower and then climb up the valley on the other side but I knew there was some good runnable sections at the top of the Comms tower climb.
One of my rules is "Never outrun your running." I knew I had to pace myself intelligently over this section to get the most out of my legs. So much of ultra running is walking that tight rope between too fast and too slow. "No attacking, no slacking!" Another rule. I needed to find that goldilocks 100 mile pace. FOCUS!!
I found myself at the top of the comms tower. Quickly watered a tree, 1 minute sit down on the log. Ok lets run. I started running and felt good. The high volume weeks had paid off. All those 140/150km weeks had taught my muscles to keep going even when they felt tired. It felt like just another Sunday afternoon run. The muscle memory was there and it felt great!!!
Down into the valley, I thought about how important it was not to push too hard at this time of the day. The cooler temperatures were on their way and I needed to save some running for the night section. This section between CP2 (50kms) and CP3 (76kms) was all about maintaining and keeping "The Mongrel" caged.
In December at the C2K I heard a great analogy for the different personalities in the mind of a runner. I think it's Martin Fryer in Queensland that created this (?) so all credit goes to him.
In every runner lives three personalities :- The Scientist, The Mongrel and The Hippy.
The Scientist is constantly counting counting counting. He says, "5kms to the next hill, 10kms to the next Checkpoint. 6 minutes per km means an average of 5km every half hour. That's 65kms complete, only about 110kms to go!!" Counting counting counting on and on. Measuring every bit of data to try to change the numbers.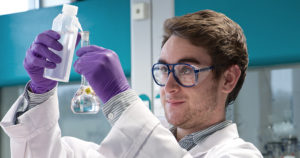 This counting and measuring can be helpful at times when you're working to your checkpoint times but it can also drive you completely INSANE!! It's best to keep The Scientist as quiet as you can for as long as possible. Every time you look at your GPS watch, The Scientist will have something to say about it and it's rarely productive. "Only 5kms to go!!" Oh please shutup dude.
The Mongrel on the other hand is less focussed on numbers. The Mongrel just wants to be let out of the cage all the time. He wants to sprint and race at every opportunity. He says, "Lets just run as fast as we can and hold on in the last 50kms!! We can do this, I feel strong!! Lets go go GO!!" He also says, "Don't get overtaken!! Lets SPRINT!! We can hold sub 5 minute kms EASY!! We can beat this guy!! I'm unbreakable!! Let's push!!"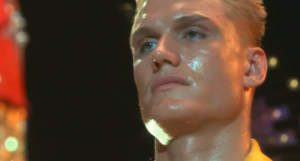 The mongrel is really useful in the last 10kms, maybe the last 25kms if you're legs are feeling good but The Mongrel needs to stay firmly in his cage till then. He is no use in the first 150kms when stamina and pacing take priority and he can actually mess things up if you let him.
Finally, there's The Hippy. The Hippy loves the mountains, the trees, the animals. He soaks up every view and is euphoric when the sunshine hits his back. His mind wonders into the sky, forward and backwards in time and space. He sees every run as a series of adventures in a journey that goes on forever. He knows there is no finish line, there is only the things in life we cherish. Family, friends and our ability to run. When he sees another runner he sees a fellow explorer with some great conversation and insights. He sees an ally in the journey towards the sunrise. He really doesn't care about what position he's in, he just wants to run his own race.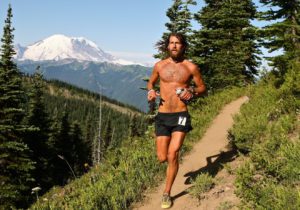 So I run with The Hippy during the middle of the race for as long as I can. Occasionally I need to FOCUS so The Hippy doesn't completely take over but eventually The Hippy and I arrive at the Basin. This is my home. The Hippy says, " I love this shit bro!!!!"
Another quick turn around, I say hi to Paul, Margie, Scott, Tim and my support crew. Tim says it's only 20kms to the next checkpoint at Yarramalong so we fill my hydration pack accordingly with only three quarters of Tailwind. It's about 4:10pm so I remove my visor and sunnies and hope I don't need to use my sunglasses again in this race. Head torch on my head, it's not turned on yet but the night game is about to begin.
I know there's some good running coming up after the climb out of the Basin so I try to eat some Shot Blocks as I leave. They're a nice break from the Clif bars I've been eating every 3 or 4 hours. Never underestimate the power of a little sugar!! 
I hit the top of the hill out of the Basin and my legs are feeling good. Again "The Mongrel" wants to sprint but "The Scientist" reminds me that we have around 11kms of runnable road coming up into Yarramalong and I want to run as much of that as possible.
Before long I hit Cedar Brush Creek Road. 11kms seems a long way. I negotiate with my legs to run halfway which is 5.5kms. Everything is easier when you get half way. Before long I'm at 5.5kms, then 6kms. The Scientist says "5kms to go at this pace is about 30 minutes. You could run close to 12 hours!" I see the Wombat sign which means 3kms to go. I know this course too well.
I arrive in 12:15. Outside the checkpoint one of the marshals asks me if I'm finishing here. I try not to respond with negativity. "Not today!"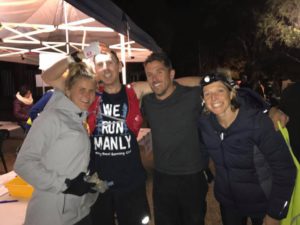 At Yarramalong my watch says 96kms. Legs are good, my weight is still below my start weight so no Doctor required as in previous years. One of the Marshalls tries to give me a 100km finishers medal which I'm not supposed to have. I really need to get out of here before it gets too comfortable. Then I see Blackie. My trail brother from another mother! He knows where I am. My head is euphoric and exhausted all at once. I call this place la la land. He smiles a knowing smile and I draw strength from his understanding. Then Tamara from Maddonnutrition tells me I look great. Compliments work so well on a tired brain. Thanks Tamara!!
Hugs from my crew. Another gear check, almost as quick as the last one at CP2. My baby Nia looked happy strapped to the front of Tamara. Mark Redding appears out of the darkness and I know I'm in good hands. 
I chatted to Mark as I left Yarramalong and told him how important the next section was for me. Yarramalong to Somersby is 29kms of punishing trail with plenty of climbing and the key to the whole race. I needed to run well here to get anywhere near a sub 24 hour time. I popped my first couple of Panadol Extra which I had been saving for the last 12 and a half hours and we blasted out some music from Mark Redding's phone. My phone had mysteriously died so my pre-downloaded playlist for this section was unaccessible.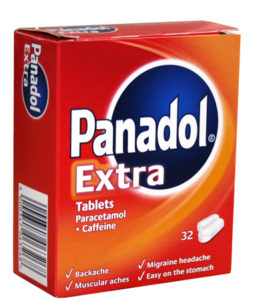 The caffeine kicked in BOOM!! Thankfully Mark had great taste in music with plenty of rousing guitar anthems blasting out from his phone. I measured this section in training. It was exactly 5kms from the Yarramalong checkpoint over the infamous Bumble Hill to the rocky climb up to the road. 5kms of work would get me through this first part of my Nemesis. Lets go to the office!!
Mark and I went to work and I had forgotten how amazing at pacing Mark was. Mark had paced me previously on the first section of the GNW250. The GNW250 is a 276km "Fat Ass" run encompassing the entire North and South of the GNW trail from Queens Wharf Newcastle to Macquarie Place in Sydney CBD. Mark paced me in 2015, the year I achieved the course record (49:05).
Mark told me when to walk and take it easy. He kept "The Mongrel" caged when my brain was getting mushy.
Before long we caught up with Gav. Sadly, Gav was not looking as strong as he did at Yarramalong. I knew where Gav was physically and mentally because that's exactly the same hole I had fell into on this section last year. I tried to console him and say some words of encouragement but his calf was torn and this was the end of any running during this event. I could tell he wasn't going to give up though!! Even though I sensed that he was thinking about the 12 hours plus of marching ahead of him!!! I could see already that this year Gav would accept nothing but a finish.
999 out of 1000 athletes would have given up at this point but anyone that knows Gavin knows this guy has the right stuff. There's depth of character then there's the stuff this guy has. I know Gavin's deep well of character because he has also crewed for me before.
He taught me about the negative chatter in your head that he calls Leroy. Gavin taught me to disassociate myself from Leroy (the negative voice) and FOCUS on my own thoughts. Powerful stuff and a great lesson to anyone who finds themselves in the hurt locker. It's well know in ultra running circles that your brain will give up long before your muscles. Don't listen to Leroy!!!!
Well done Gavin Markey you're a bloody WARRIOR!!!!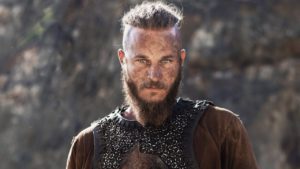 Mark and I push on. Mark tells me the history of the GNW race. We chat and laugh. We turn the nemesis section into a lucid dream. The Hippy returns. A wave of Euphoria builds as we get closer to Somersby because I know that as soon as we arrive we have one of the easiest sections of the GNW. 16kms of rolling downhill 🙂 
We arrive at Somersby CP5 (126kms) about an hour ahead of my schedule at 10:43pm. I thank Mark for an amazing section and one of the strongest runs on that section I've ever done. The race is starting to feel like a dream now. This could be because of tiredness, panadol or a combination of both. For the first time I wonder what position I might be in. As I leave the checkpoint with my new pacer Nick Hough, I ask him my position and he says he has been sworn to secrecy. I don't really care at this point because I know the next section is a net downhill and very runnable. I think to myself, "Lets worry about my race position at Mooney Mooney."
Nick and I walk about 100 metres out of the checkpoint and my head torch starts to flash. Maybe I should have practiced with my new Pretzl head torch before race day?? I ask if Nick has a spare battery or head torch and thankfully he has come super prepared. LIFE SAVER!!!!
We run and chat and sing along to my playlist. My phone has been charged so we blast out some tunes while we discuss Game of Thrones, the next Star Wars movie and Netflix shows.
This section is only around 16kms so I knew I could run it pretty much without stopping. As we ran The Scientist calculated that I was going to reach Mooney Mooney CP6 waaaay ahead of my scheduled time of 2am. As we got closer to the checkpoint we saw head torches ahead. It was Grant Brisbin with his pacer. He looked a little tired but I knew he was one of the strongest runners on this course. We caught up with him quickly so I think he was going through a bit of a bad patch. We said hi, offered some encouragement and then pressed on ahead to the checkpoint.
As I arrived at the Mooney Mooney checkpoint I knew that Grant was still just behind. Grant has been DESTROYING my Strava Course Records on the GNW all year in his training for this event so I knew I had my work cut out for me. In and out of Mooney Mooney with Nick in 2 minutes. As we left I asked Emma what my position was … "There's only Brendan Davies ahead of you. Go get him!!!" … I laughed, not just because I was pleased to be in second place but also because I knew the chance of catching Brendan was nearly impossible but I could stay ahead of Grant and that was all I needed to FOCUS on. 
FOCUSSED
RELAXED
COMPOSED
I had to focus on the last 25kms. I repeated the words, "Focussed, relaxed, composed" out loud. I was in second place and very unlikely to catch Brendan but there was absolutely no way I was going to let Grant sail past me. If he wanted to get past then I was determined to make him work hard. Lets go to the office, I thought. Unleash the Mongrel!! Too late to be conservative. You can't get more broken than completely broken!!
I convinced my muscles to march fast on the climbs. Each time my mind would wander towards the finish line I would tell myself to be FOCUSSED, RELAXED, COMPOSED.
No silly mistakes. If I can just hold on I will finally get my sub 24 hours. Don't think about that, just FOCUS.
The Scientist in my head starting breaking down the section. 10kms to the Waterfall. Then 5kms from there to the sign. Then 4kms from there to the dump. Then only 7kms to the finish!!
I ticked off the landmarks. My brain wasn't working so well. We replaced a head torch that I thought had died with another head torch. Both head torches were perfectly fine including the one I replaced. My brain was failing me but I kept telling myself, "The quicker I run, the quicker I'm done."
Ah the Waterfall! The Mooney Mooney checkpoint was now 10kms behind us. But what if Grant had started to get stronger? I needed to press on. 5kms to the sign.
When we reached the sign I knew we were almost in single digits. We were nearly under the 10km mark to go but I didn't want my body to fall apart until the race was done. I had to try to convince my legs not to relax just yet. Give me 10 more kms please legs!! Every rustle in the bush or noise behind us sounded like a runner was about to catch me. The fear of losing second place was the only thing that kept me running. I was running scared but it was working. I'm sure my conversation with Nick had got a bit boring by this point. My sentences became shorter and my brain was a little confused, sorry Nick!! 
We reached the dump!! 7kms to go to the finish!! I've never been so happy to see a rubbish dump!!
3kms to the road. Done. We crossed the road onto the sandy trail. FOCUS. What if Grant was just behind us? I can't lose it in the last 4 kms!! I can't think properly, just run. FOCUS!
We hit the stairs and a sense of relief rushed over me. I knew nobody would catch me now. Past the Patonga sign and onto the last downhill to the beach. Was this really happening? It felt dream like. 7 years running this race and I would finally run a sub 24!!!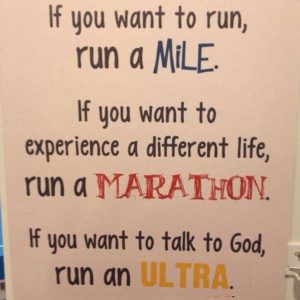 Nick and I hit the beach and I had a very strong feeling that this was all a dream and I would soon wake up and realise I hadn't started the race yet. I sincerely hoped it wasn't a dream.
We ran along the sand. Nick turned to me and said, "It's 4:24am, you could run a sub 22 hour GNW!!" This was the final piece of the puzzle I needed, this was definitely a dream! None of this was real but I thought I would go along with it anyway because it was a good dream.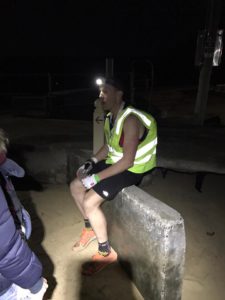 21:58 and 2nd place
Thank you to my amazing crew Nick Hough, Mark Redding, Anna-Lena Werner, Jon Richardson, Emma Ward and Nia Ward. You really have made my dream come true.
To all of the GNW family, Tall Geoff, Whippet, Spud, Adam Connor and you're respective better halves, thanks for all the encouragement and support over the years. I have learnt so much from all of you and I couldn't have improved without each of you helping me.
To the GNW event organisers, volunteers, marshals and Terigal Trotters, I don't know if you all realise how special this race is but it's become a second home for me and for many of my friends. Thank you to each of you that make this annual pilgrimage so special. We train for it all year, we suffer for it all year and then we talk about it all year too!! This race is unique in Australia and we love it!!
To all my GNW 100km and 100 mile comrades … whether you finish first or you don't finish at all, lining up on that start line takes some serious courage. I admire and respect each of you.
Thanks to my sponsors North Face and Sydney Road Dental Care.
Thanks to Kieran from IB Physio and Tamara from Madonnutrition
See you next year 😀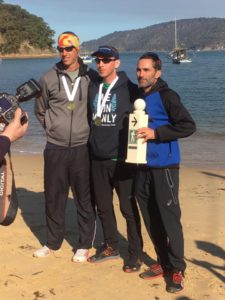 1,266 total views, no views today